WATER HEATER SALE – COLONY PLUMBING
Hot water is something many of us rely on every day. As we have been spending much more time in our homes, we have begun to notice parts and equipment that may need updating or replaced.  If your Water Heater is approaching 10 years in age, 𝙉𝙤𝙬 𝙩𝙝𝙧𝙤𝙪𝙜𝙝 𝙅𝙪𝙣𝙚 1𝙨𝙩, in an effort to help our community during this tough time – we have decided to slash the prices on some of our most common water heaters. Check out some information on replacing your Water Heater HERE.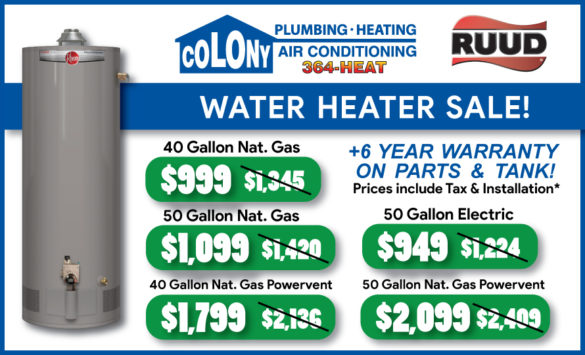 The prices above include Tax, Disposal of old Unit and Installation. You will also receive a 6 year warranty on parts and the tank! "𝘾𝙖𝙡𝙡 𝙩𝙝𝙚 𝙂𝙪𝙮𝙨 𝙔𝙤𝙪 𝘾𝙖𝙣 𝙏𝙧𝙪𝙨𝙩." Call Colony Plumbing, Heating and Air Conditioning Today!  𝟯𝟲𝟰-𝗛𝗘𝗔𝗧 (4328)
Don't miss this sale!!